"Ladies and gentlemen, boys and girls, children of all ages, freaks and geeks, trolls and derps alike... Turn the lights down and the volume up as we journey into some creepy gaming!"
Description
Edit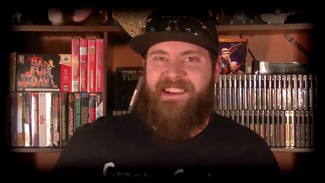 Mike Hardcastle, commonly known as xMulletMiKex is a Yeousch Reloaded Director and the Content Manager of TheStickyPaddle Gaming Network. Since 2012, he has been working on a series called "Creepy Gaming" in which he takes a look at all types of creepy video game moments, secerets, bosses, easter eggs, scary games, hidden messages, myths, legends, and creepypastas. He has a wife and a son . 
Mike runs the series "Creepy Gaming" and TheStickyPaddle Gaming Network, slowly uncovering creepy games, Easter eggs, myths, legends and more!
-Twitch user Frostbitenachos made a joke about Five Nights at Freddy's lore being comparable to a "spider web combined with an 8 year-old with a stick,". After encouragement from Mike, Frostbitenachos put the praise given to him by Mike on his resumé. He now works happily as a video game critic and credits Mike for his success.